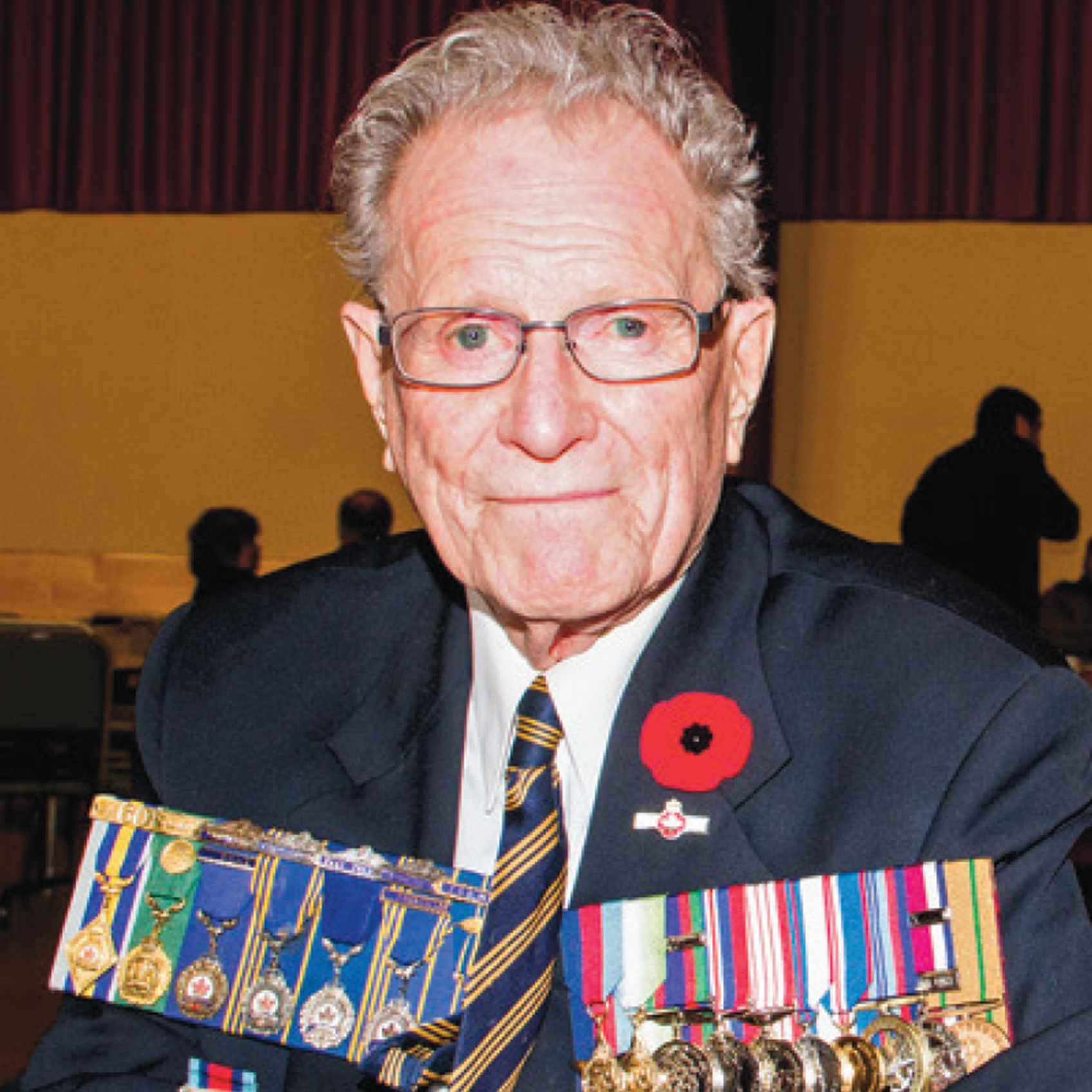 Remembering Harold Hague and a Life Well-lived
1921 – 2020
Harold was born in Earl Grey, Saskatchewan and grew up in Regina. After high school he signed up for active service in the Royal Canadian Navy as a signalman. He served during the Battle of the Atlantic. On D-Day he was part of the Canadian 31st Minesweeping Flotilla aboard the HMCS Cowichan at Omaha Beach. It was their responsibility to sweep the ocean for mines, cut them loose and fire at them until they exploded. Amid heavy shelling, the drowning deaths of his comrades and two destroyed minesweepers, he survived to see his 23rd birthday a week later. (You can read more of Harold's D-Day experience at https://www.thememoryproject.com/stories/635:harold-john-hague/. There are so many articles or videos to refer them to?)
Following WWII, Harold joined the staff at Loggie's Shoes in Regina where he became a partner in 1966 and owner in 1978. At age 93 he was still showing up for work!
Like so many WWII veterans, Harold believed in serving others by volunteering his time not only for himself but for his fallen comrades as well. He exemplified the three pillars of the Royal Canadian Legion.
Harold was devoted to serving veterans. He was an active member of Regina Branch #001 for over 70 years. He was President of the Branch, Saskatchewan Command, and the Corps of Commissionaires. He spent 47 years on the Board of Governors with the Commissionaires Saskatchewan Division trying to help his fellow veterans and mentoring younger forces members. He was a member of the Dominion Speakers Bureau and was a well-known advocate for past and present veterans.
Recognized for his service to the veteran community and country, Harold received the Legion's Meritorious Service Medal, the Commissionaire's Distinguished Service Medal, the Ministry of Veterans Affairs Commendation Award, the Lieutenant Governor's Military Service Medal, and the rank of Knight of the French National Order of the Legion of Honour.
Harold carried the torch of remembrance. He never shied away from an interview and a chance to tell his story and those of fallen comrades. Many of these interviews were conducted when he was in his 90s. In cooperation with the Saskatchewan Protocol Office and Veterans Affairs Canada, Harold was Chair of the 1995 Canada Remembers Program in Saskatchewan. Harold served as Chair of the Poppy Campaign and Co-chair of the Regina Remembrance Day Service. He was instrumental in arranging the popular indoor service at the Brandt Centre. Google "Harold Hague" and you'll find too many articles and videos to list here!
Harold served the community. He was instrumental in the development of Regina's downtown, and founder of the Regina Downtown Business Improvement District (RDBID) in 1981. He played a leading role in the establishment of the Douglas Park Track and Field facility and the YWCA. Harold's volunteerism included serving on the boards of the Chamber of Commerce, the Canadian Cancer Society, the Queen City Kinsmen as well as serving as President / Chair of the Family Service Bureau, Wascana Winter Club, Regina Exhibition Association, and RDBID. He was also involved with the Junior Chamber of Commerce, Girl Guides and Boy Scouts.
Recognized for his service to the community, Harold received the Governor General's Caring Canadian Award and the Chamber of Commerce Paragon Award for lifetime achievement.
It's difficult to write so many accolades for such a humble man. Whenever one thanked Harold or praised him for his accomplishments he was always quick to point out that he didn't do it alone.
Harold never took anything for granted. He lived his life to the fullest and will be remembered for his kindness, generosity, friendship, smile, sense of humour, and dedicated commitment to community and country.