Why Choose Certified Seed
Certified seed is one of the most important managed decisions you will make on your farm.
  Newest traits for improved yield potential and reduced risk.
  Pure seed with strict limits on weeds, diseases and other crop kinds.
  Highest varietal purity for best quality seed and most genetically consistent grain at harvest.
  The greatest level of market access due to its traceability of known harvest traits and good safety.
  Ready to use: cleaned, processed, tested and certified.
  Valuable seed treatment and nutrition options to further protect your seed.
  Very competitive cost versus farm-saved seed.
  Additive value of newest genetics plus varietal purity for higher yields and improved marketing.
  The maximum value of crop inputs.
  Supports further investment into improved seed technology.
Sow the advantages, add up the value, and reap the rewards.
Plant Breeders' Rights
Plant Breeders' Rights (PBR) legislation has evolved to bring Canada in line with the rest of the world and ensure our country attracts the necessary genetics and investment for the seed industry. This will provide Canadian farmers with the technology to be competitive on the world stage.
The following chart compares the original PBR Act and the new legislation (pre- and post- February 27, 2015).
| | | |
| --- | --- | --- |
|   | PBR 78 | PBR 91 |
| Can farmers save/clean seed for use on their farm? | Yes, only for use on their farm | Yes, only for use on their farm |
| Can farmers sell farm-saved seed to other farmers? | No | No |
| Can farmers exchange seed with other farmers? | No | No |
| Can farmers buy saved seed for their farm? | Not specified | No |
| Are grain buyers liable for breaches of the breeders' rights? | No | Yes |
| Can breeders be compensated for lost royalty revenue, lost markets and court costs? | No | Yes, by farmers, cleaners and grain buyers |
To ensure you are on the right side of the new Plant Breeders' Rights legislation, always buy Certified seed each time you purchase new seed for the farm. Purchasing Certified seed ensures you have the best seed, to grow the best crops, while supporting new technology and your future competitiveness.
How is Certified Seed Produced?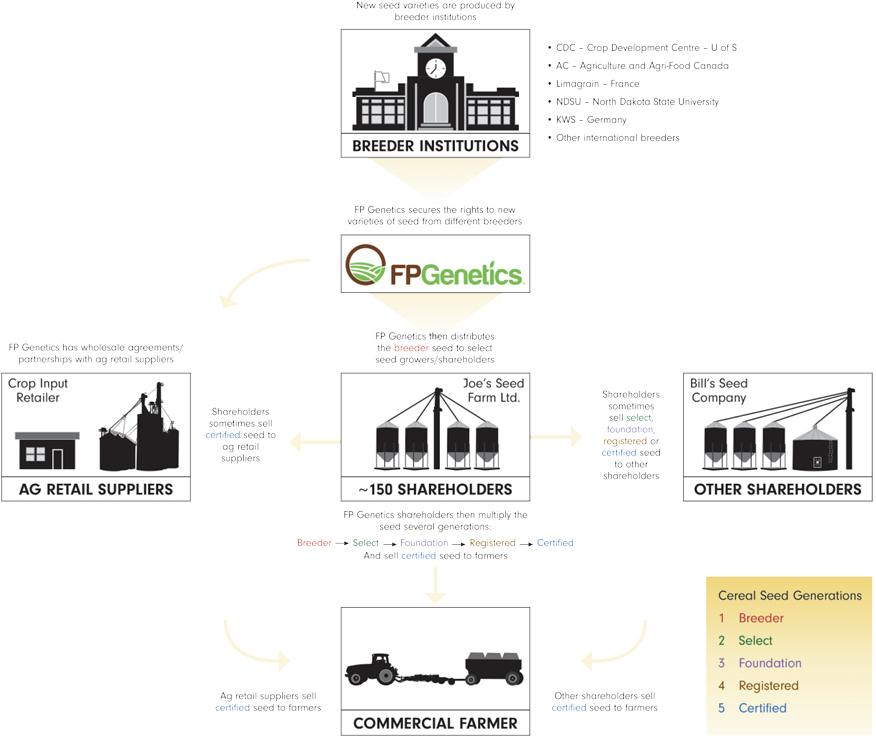 Privacy Policy
FP GENETICS INC.
PRIVACY POLICY
Effective as of Tuesday, October 24, 2023. This Privacy Policy may be modified to be kept up to date.
FP Genetics Inc. ("Us", "we" or "our") respects the privacy of our customers, and users who visit our website. We encourage our customers and visitors to our website to read this Privacy Policy from time to time as we may update it.
This Privacy Policy explains how we may collect, use, disclose and otherwise process personal information that you may submit when you interact with us, and when using and interacting with our website.
In this Privacy Policy, "personal information" includes any information about an identifiable individual or any information that may reasonably be linked to an individual.
1. HOW DO WE COLLECT PERSONAL INFORMATION AND WHAT PERSONAL INFORMATION DO WE COLLECT?
We collect personal information from you when you provide information directly to us (e.g., when you contact us by email). Specifically, we may collect your name, mailing address, email address, telephone number, and any other identifier we may use to contact you online or offline. We also collect the contents of your communications to us and any information you choose to provide to us in the course of providing products or services to you.
In addition, we may automatically collect technical information when you use our website, such as:
•Non-personal information, which does not directly or indirectly reveal your identity or directly relate to an identified individual, such as demographic information, or statistical and aggregated information. Statistical or aggregated data does not directly identify a specific person, but we may derive non-personal statistical or aggregated data from personal information. For example, we may aggregate personal information to calculate the percentage of users accessing a specific website feature.
•Technical information, including the browser type and version, time zone setting, approximate location, browser plug-in types and versions, operating system and platform, information about your internet connection, the equipment you use to access our website, and usage details.
• Non-personal details about your website interactions, including the full Uniform Resource Locators (URLs), clickstream to, through and from our website (including date and time), page response times, download errors, length of visits to certain pages, page interaction information (such as scrolling, clicks, and mouse-overs), or methods used to browse away from the page.
See Section 3 (Cookies & Other Technologies) for more information.
2. HOW DO WE USE YOUR PERSONAL INFORMATION?
We may use the personal information we collect for the following purposes:
• To provide our products and services to you.
• To present our website and its contents to you and contact and communicate with you regarding your use of the website.
• With your consent, to send you promotional emails to keep you informed of our developments, new products, and services. Each email features the option to unsubscribe from receiving these emails, which may be done at any time.
• To respond to requests, complaints, comments and questions you submit to us.
• To compile statistical records and other aggregate data about usage of our website, measure website activities, personalize your experience on the website, and detect and prevent security threats.
• To improve our website, products or services, or customer relationships and experiences.
• For other purposes that we identify to you from time-to-time.
3. COOKIES & OTHER TECHNOLOGIES
Like many other websites, we use technologies to automatically collect technical data from visitors to our website. In particular, we may send a small text file to your computer called a "cookie" that identifies your browser to our server when you visit various pages of the website. Cookies are used to better serve you when you return to our website and, in some cases, these allow our website to function. Many web browsers automatically accept cookies but as part of the functionality within your browser you can usually choose to decline to accept certain cookies. Any cookie sent to your computer by us in connection with your use of the website does not give us access to your computer or to any personal information. Please be aware that disabling your browser's ability to collect cookies from us may limit your ability to use all of the features provided on our website.
We also use third-party analytics services to help us to better understand the functionality of our website on your computer, smartphone or other device. Analytics may record data such as how often you use our website, which features you use or do not use, aggregated usage and performance data. This data is generally unidentifiable and cannot connect to you.
4. WHERE AND HOW LONG DO WE KEEP PERSONAL INFORMATION?
Your personal information is stored and/or processed or otherwise used by or on our behalf in Canada. However, one or more of our partners or service providers may be located in another country and, as a result, your personal information may be subject to the laws of that country. If your personal information is transferred outside of your jurisdiction, we will take steps to ensure your information is adequately protected in accordance with applicable privacy and data protection laws and to the same high standard of privacy protection and data security we apply to ourselves. We retain personal information only as long as necessary or appropriate for the purposes we identified (e.g., for as long as your relationship or account with us is active), unless we are required by law (e.g., tax purposes) to retain it for longer.
5. HOW DO WE KEEP PERSONAL INFORMATION SECURE?
The security of personal information is important to us. Although we cannot guarantee 100% security, we use reasonable and appropriate security measures to protect personal information against unauthorized use, loss, access, modification, destruction or disclosure while personal information is in our custody or under our control. These measures include physical, organizational and technological measures. Physical measures include secure work areas, and technological measures include encryption, firewalls, anti-virus and system security monitoring. Organizational measures include controls to limit access to personal information only to those employees, contractors and agents who have a business "need to know."
If we use third-parties service providers, we require such service providers to use similar safeguards as those used by us, and also require service providers to limit access to your personal information on a "need to know" basis as well as to keep it strictly confidential. Service providers are only permitted to use your personal information for the sole purpose of carrying out services on our behalf.
6. WHAT ABOUT THIRD PARTY LINKS?
Our website may be linked or accessed from another website, or contain links to other websites or social media platforms. We encourage you to review the privacy policies of all websites that you visit to ensure that you understand how those websites collect, use and disclose your personal information. We are not responsible for the privacy policies, the content, or the data handling practices of other websites. This Privacy Policy does not extend beyond our website.
7. HOW AND WHY DO WE SHARE YOUR PERSONAL INFORMATION?
We may share your personal information with:
• Service providers administering our products, services or website, and assisting us in data storage;
• Entities assisting us with marketing;
• Third-parties, in order to obtain necessary legal advice or to comply with insurance, legal or regulatory obligations;
• Third-parties as a result of, or in connection with a sale, merger, consolidation, change in control, transfer of assets, reorganization, or liquidation;
• Government, regulatory bodies and law enforcement agencies, as requested, if the disclosure is required or permitted by law or to take action regarding illegal activities or violations of terms of use, or as otherwise required by law.
Where we share your personal information with any third-parties, these parties are under legal and contractual obligations to comply with applicable privacy and data protection legislation, to safeguard your personal information in order to protect its confidentiality, to only use the personal information provided to them for the purposes in which it was disclosed, and to comply with this Privacy Policy. We do not otherwise disclose any information in our custody to third parties unless it is with your consent or required by law. We do not sell any personal information.
8. HOW CAN YOU ACCESS YOUR PERSONAL INFORMATION?
At any time, you may request information on the types of personal information that we have about you, what it is being used for, and with whom it has been shared. You may make such request by contacting us at the email below and we will respond to your request within 30 days. If you notice any inaccuracies or wish to update or complete any part of your personal information, you may request the correction or update of that information.
We will provide you with access to your personal information that is in our possession subject to certain exceptions, such as any information about another individual that cannot be severed, any information subject to solicitor-client privilege, or any information subject to legal restrictions that may prevent us from fulfilling your request. If we cannot accommodate a request, we will provide you with justification as required.
At any time, you may withdraw your consent to the collection, use, disclosure or any other form of processing of your personal information, subject to contractual or legal restrictions. Please note that if you withdraw your consent, we may not be able to provide you with particular products or services.
9. CONTACT US
To make a request to access or correct your personal information, or if you have any inquiry or concern about the protection of your personal information, you may contact us by email at info@fpgenetics.ca
If we are unable to address your concerns, you may also file a complaint with the relevant provincial or federal privacy commissioner.