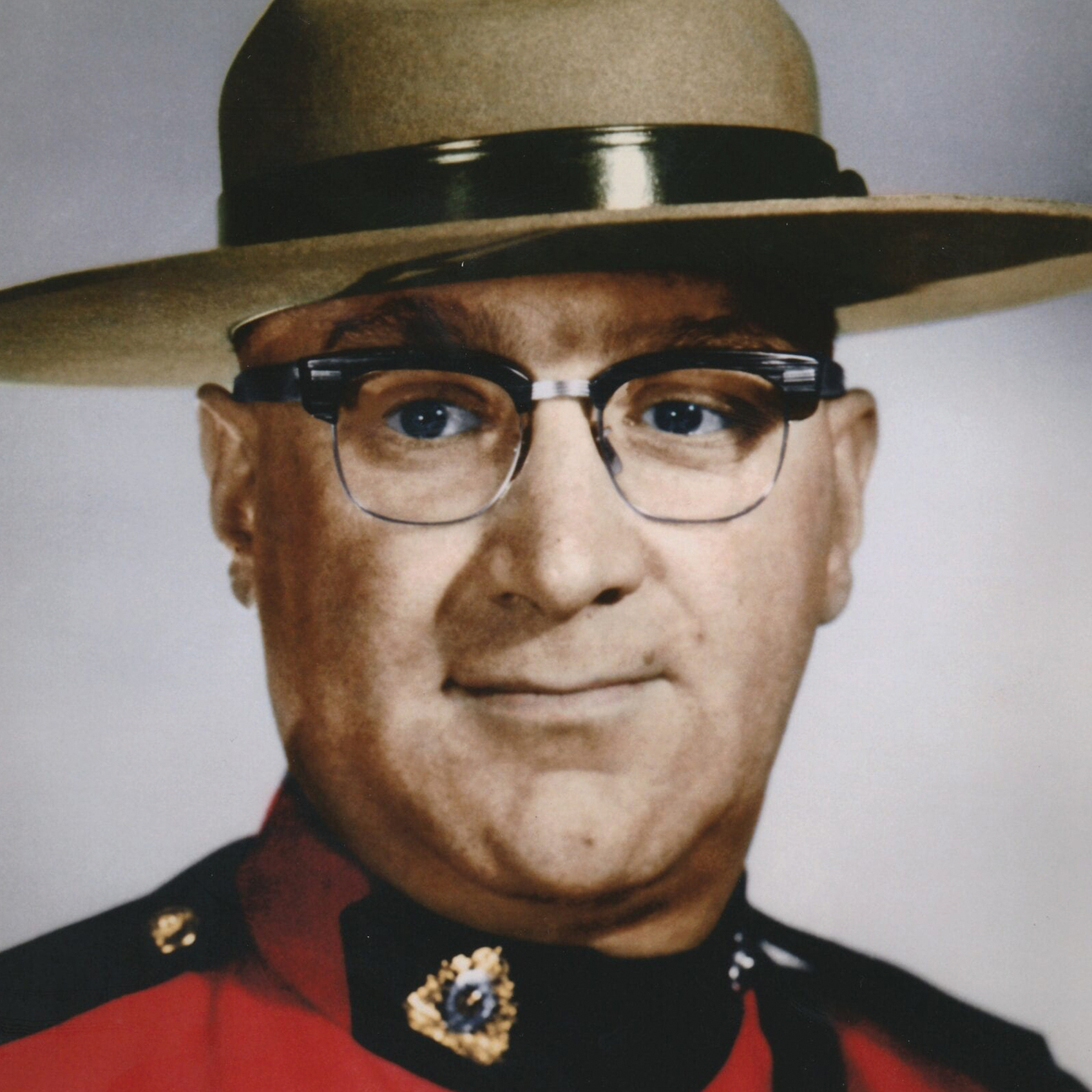 Sargeant Robert James Schrader age 41, and Constable Douglas Bernard Anson age 30, were shot and killed, while investigating a domestic dispute, near MacDowall, Saskatchewan.
Shortly after 5:00 pm, Prince Albert Detachment received a complaint from Edward Neudorf, stating that the day before, Wilfred Robertson had found him with his wife on a deserted country road. He told police that Robertson had torn a large chunk of hair from his wife's head and then fired a shot at him.
Sgt. Bob Schrader and Constable Doug Anson were in the vicinity of MacDowall, which is approximately 15 miles (24 kilometers) south of Prince Albert, so they decided to take the call. They drove to the Robertson residence, and for some unknown reason, Sgt. Schrader left his Sam Browne holster and revolver in the police car and it cost him his life.
Upon arrival both policemen exited their car and, while Constable Anson went to knock on the door, Sgt. Schrader checked out Robertson's truck for any evidence related to the assault on his wife. When Constable Anson knocked on the front door Mrs. Robertson opened it and Anson asked if her husband was home. He heard Robertson say, "what does he want" and when the constable replied, "Can I talk to you", Wilfred Robertson who was standing in the living room didn't answer. As Constable Anson stepped into the house, Robertson shot him in the chest with a high-powered rifle. As Anson stumbled backwards out of the house, Wilfred Robertson yelled, "Now talk" and then fired a second round into the constable's back.
When Sgt. Schrader saw his partner murdered, the cold reality of his situation hit home. His revolver was inside the police car along with their only radio and he was cut off from both items. So he sought shelter behind some trees and attempted to talk to the assailant, asking him to help his partner. Robertson calmly replied, "I'll help your man. I'll help you too!" and then fired three times. The first shot hit the tree Schrader was hiding behind, and the second shot hit him in the abdomen with enough force to knock him to the ground. The third and final shot hit him in the pelvis, fatally wounding the sergeant. As Schrader lay bleeding to death, Wilfred Robertson walked back into his house and fixed himself a meal. After eating, he took Constable Anson's revolver from his holster and put his rifle in the police car and drove off.
Shortly thereafter the largest manhunt in the history of Saskatchewan ensued, using airplanes, dogs and several teams of men. The stolen police car was quickly found, but due to a cold night of snow, the dogs could not pick up a track. Wanted posters were distributed throughout the west but Robertson had disappeared without a trace. The following spring, his frozen body was found in a dense thicket about 1 mile (1.6 kilometers) from his house. He had taken his own life.
Sgt. Bob Schrader had served the RCMP for 22-years, and left behind a wife and five children, including two sets of twins. Cst. Doug Anson had eleven years service and had only been married for two months.
Both police officers were buried side by side with full honours at the RCMP cemetery at Depot Division in Regina.